Want to stay connected while playing bridge at home?
Bridge Base Online
currently offers a convenient place to play bridge and stay in touch with local players.
If you're unfamiliar with Bridge Base, many of the functions you'll need on the site are labeled in the photos below and described in the coordinating text.
1. Click the Login/Register button and follow the instructions.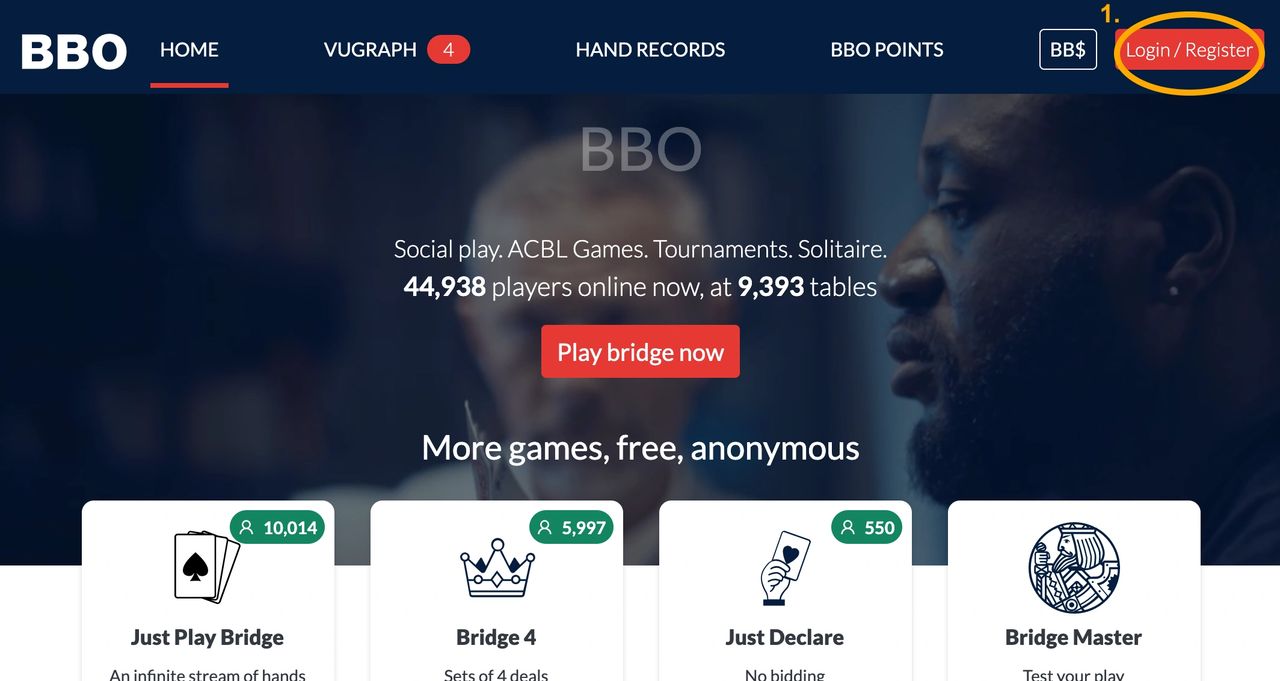 1. Use the Back or Home button to return to the previous page or start over.
2. Solitaire will let you play bridge by yourself for free, play in inexpensive tournaments against other players, or play a free tournament that changes weekly.
3. Competitive will allow you to play in ACBL tournaments, free tournaments, and club games.
4. BBO Prime will allow you to play bridge with other members of the Prime community
5. Casual will help you find a table or start a table where you can play an unlimited number of boards.
6. Practice will let you start a bidding only table, a teaching table where you can choose which kinds of hands are dealt, or practice declaring with Bridge Master software.
7. ACBL World offers tournaments that offer masterpoints.
8. Robot World offers more tournaments, many of which offer masterpoints. Look for "ACBL" if you want to play for masterpoints.
9. Virtual Clubs will allow you to play club games. Contact your local club manager or club director to find out if your club is participating.
10. Challenge a friend or a group of friends to a matchpoint or IMP tournament that only you and those you invite will play.
11. Instant Tournaments provides more inexpensive tournaments with matchpoint or IMP scoring. Scrolling down below Instant Tournaments will give you options 11a and 11b.
11a. Vugraph will let you watch live broadcasts of expert play.
11b. Masterpoint races will let you review who has scored the most masterpoints on BBO.
12. Logoff will allow you to sign out or switch accounts.
13. BB$ allows you to add money to your BBO account to pay for tournaments which charge a small entry fee.
14. Messages allows you to read news from BBO, chat with friends, and check your BBO mail for messages that may have come in while you were away.
15. People allows you to add friends and see which friends are currently online.
16. History allows you to revisit recent tournaments and recent hands
17. Account will let you alter your profile, change the appearance of cards, the speed of play, and the sound effects.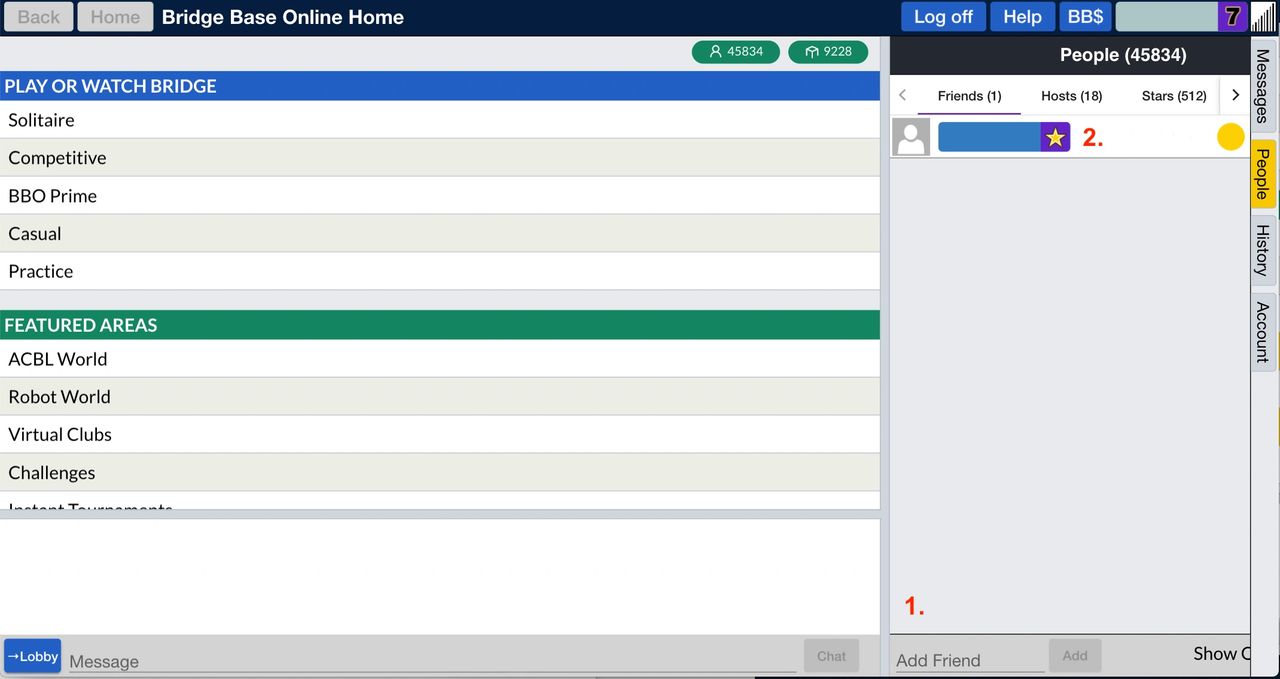 1. To add friends, simply type their USERNAME in the space provided.
2. To see who's online, look for your friends' USERNAMES in the blue bars.
If you would like to make yourself easier to find on BBO, please provide your real name and USERNAME in the comments below. You can also look through the comments for the names of your friends.
Have fun, and we'll see you at the tables soon!